NaNoWriMo 2011: I won it.
Submitted by Earok on Sun, 11/27/2011 - 16:23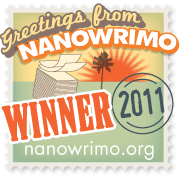 27 days, 50,082 words. For the second time out of two attempts, I'm a successful NaNoWriMo novelist! F*** yeah!
The novel I wrote is still technically untitled, though I've run with the working title "Heart of Ice", as it was written to be the origin story for the characters present in the game. As for who is actually going to read it, Kirsty said she will, but I'd probably be too embarrassed about it's awful quality to show many others!
Here's the graph depicting my noveling progress: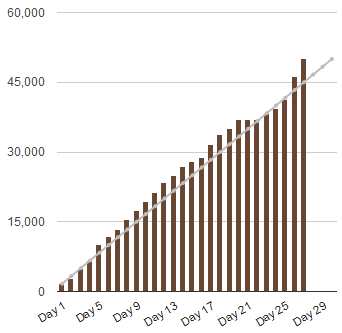 The grey line is the target baseline, and the brown bars are my actual daily progress. As you can see, I got off to a decent start, but faulted around the 21st where I wrote literally nothing for two days. I'll be honest and say that while some of the writing was highly entertaining, other times I really struggled to get any motivation at all, and couldn't even force myself to open Q10. There were certain points where I just had no passion left for the story. And since I'd already written a NaNoWriMo novel, it also didn't help having nothing to prove. Regardless, I think the experience of being hyper productive over most of a month has been good for me, and hopefully it'll reinvigorate the productivity that has been sorely lacking for me (outside of my primary employment) this year.
So that ends another sometimes sureal journey into writing with the characters that inhabit my subconscious. I'll no doubt post my tips for NaNoWriMo success here over the next couple of days. Time to get back to actually getting things done.