Derelict 1.2 Beta release - Need help please!
Submitted by Earok on Thu, 04/30/2009 - 22:30
Well, the Derelict 1.2 Beta is up, you can grab it for a very limited time here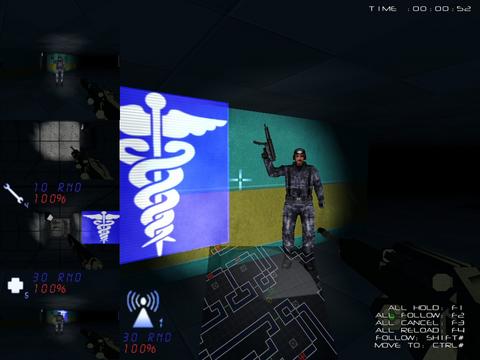 Still a few horrendous bugs in it. Haven't gotten around to tweaking the AI yet, I think the walking animation for the enemies is busted, and music seems to play up really badly on the last level. Experienced really bad slow down on a couple of levels though I was running on full graphics in debug mode, so that may have been the cause. Also multi-view mode still Isn't working 100%. I'll do a few cram sessions on the source code over the weekend to hopefully fix all of the serious bugs and even throw in a couple more features.
Anyway, I'm really interested in your comments. If you find the time to have a look at the beta between now and next Tuesday, could you please answer a couple of questions for me?
1. Asides from what I have listed, what bugs, if any, have you found?
2. Was there anything from the previous version that you thought worked better then in this one?
3. Any miscellaneous comments or feature requests?
4. Would you like to be credited as a playtester, if so how would you like to be credited?
Just email me (earok3d at gmail dot com) or use the contact form under the About dropdown or leave a comment on this post.
Oh - and, it'd be really cool if you post that I'm after help on your favourite freeware/indie game forum. Cheers!